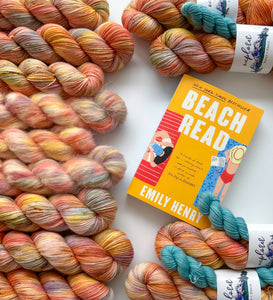 Available on:
Suri Alpaca Lace
74% Baby Suri Alpaca 26% Mulberry Silk * 328 yards/50g
Denali Sock
80% Superwash Merino 20% Nylon * 400 yards/100g
Cashmere Sock
80% Superwash Merino 10% Cashmere 10% Nylon * 435 yards/100g
Rockies DK
100% Superwash Merino * 274 yards/100g 
Carlsbad Worsted
100% Superwash Merino * 218 yards/100g
Important Note: all yarn is dyed in fairly small batches - meaning that each skein, while using the same dye recipe, will be slightly unique due to the nature of my dyeing process. additionally, while I do my best to make sure the photo matches the actual skeins, color may vary slightly from screen to screen (phone, computer. etc.) 
Shipping: this yarn is a part of the Emily Henry Beach Read collection and will ship within 3-5 business days!

All preorder sales are final.